As District Governor Nominee for Rotary District 6980, Andres Goyanes will lead Rotary's Central Florida District in 2022-2023 in a historic year when Jennifer Jones will become the first woman President of Rotary International.
The members of the Rotary Club of International Drive, which meets in the heart of Orlando's most vibrant tourist district, are celebrating the appointment of their Founding President to the honorable role of District Governor. This role, which requires a nomination process and subsequent vote by a board of District Leaders, is tasked with leading our District 6980 Rotary Clubs in achieving Rotary's mission in Central Florida.
Rotary is made up of more than 530 Districts worldwide representing one or more countries out of a total of more than 160 nations. Overall, there are over 35,000 Rotary Clubs with varying club density on each District, depending on geography and members. Rotary District Governors are the strategic leaders for a District, providing guidance and support for District Officers, Area Governors, and Club Presidents.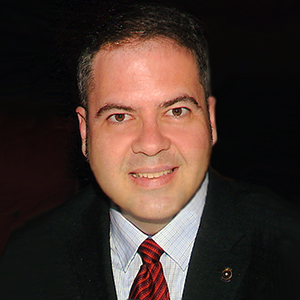 Andres Goyanes first joined Rotary in 2009, when he became a member of the Rotary Club of Lake Buena Vista, which meets in the Disney Springs area (formerly Downtown Disney). After a few years, Andres saw the opportunity to expand Rotary's coverage into the tourist area of International Drive, where he began the process of starting a Rotary Club on October 6, 2011—exactly one year ago—with an Open House held at the UCF Rosen College of Hospitality Management, introducing the concept of Rotary to Hospitality and Tourism leaders.
After serving as Founding President during the 2011-2013 Rotary years, Andres took on the role of Public Image Chair for the Rotary Club of International Drive. In 2017-2018, Andres was appointed Assistant Governor by then-District Governor Jerry Mobley, a role he reprised in 2018-2019 under District Governor Ron Janssen, and then again under District Governor Cindi Cioci. It was also during that last appointment as AG that Andres was awarded the "Rotarian of the Year" Award for his contribution to District 6980.
Adding to his dedicated leadership career in Rotary, Andres Goyanes has served as a ShelterBox Ambassador since 2015. His passion for ShelterBox has allowed him to visit most of the 48 Rotary Clubs in District 6980 as well as venturing into other Districts. Then, after becoming a Rotary Leadership Institute graduate in 2017, Andres went on to become an RLI Facilitator for a variety of Rotary courses.
Andres Goyanes is a proud UCF Alumn, having earned a Bachelor of Science in Marketing from the University of Central Florida and remaining active as a Student Mentor in the Business Knights Network at his Alma Mater. He also holds a Master of Business Administration (MBA) with a concentration in Sustainable Business and Green Development from Marylhurst University. Last, Andres is a graduate of Leadership Orlando, Class 66, and is a Past President of the American Marketing Association of Central Florida.
It should be noted that Andres' wife, Veronica Olivo-Goyanes, is also a Past President of the Rotary Club of International Drive and both are active in Rotary matters, always lending a helping hand wherever their assistance is needed.
The Rotary Club of International Drive in Orlando is excited to see Andres move into the role of District Governor ahead of what promises to be a historic year for Rotary. We wish him well and offer him our support so that he may lead our District into new endeavors and District-wide service initiatives.
https://rotaryidrive.org/wp-content/uploads/2020/10/andres-goyanes-rotary-district-governor-nominee-2022-2023-district-6980-in-central-florida.jpg
720
960
rotaryidrive
https://rotaryidrive.org/wp-content/uploads/2020/07/rotary-club-of-international-drive-orlando-gold-white-masterbrand.png
rotaryidrive
2020-10-06 07:45:49
2021-10-19 23:14:15
Andres Goyanes, Founding President of the Rotary Club of International Drive in Orlando Appointed District Governor for 2022-2023 in Central Florida